News & Events
Ryedale Charities Together
We are proud to be part of Ryedale Charities Together - to find out more click the link 
 www.ryedalecharitiestogether.com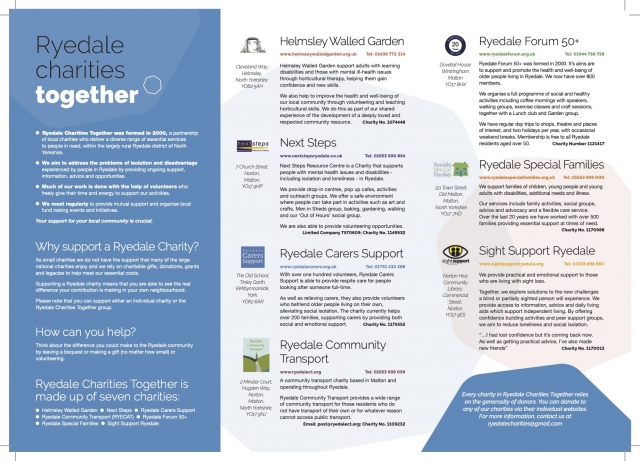 Some useful links to keep you entertained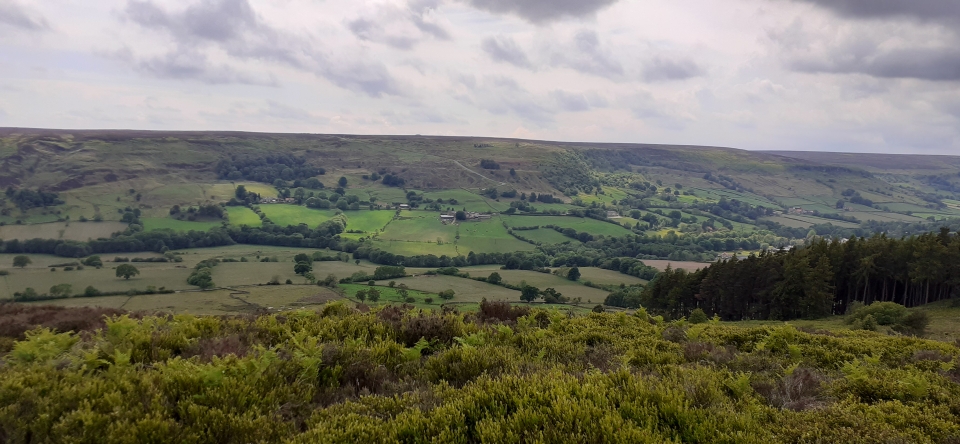 Check out this website if you are missing your country walks - you can listen to the sounds of the countryside
http://www.opencountry.org.uk/audio-walks/ 
Musical Memories are doing sing along sessions every morning at 11.00am Monday to Friday. These are the links. They will send out Songbooks to anyone that would like to join in. Please call Ruth on 07527 006402 if you would like one. 
 
Periscope - https://www.pscp.tv/search?q=Musical+Memories
Facebook - https://facebook.com/MMCIC
Vanessa Simmons Music – is a local pianist giving free lunchtime weekly concerts on Facebook 12.30 - 1.00pm every day 
 
Matt Jones Green - has set up an online alternative to concerts on his website. For £20, members can access weekly live sessions (on Zoom) as well as pre-recorded video performances for a month. Details are on his website: https://rewind.jonesgreen.co.uk 
Audiobooks
Audiobooks can be obtained from Calibre Audio a national charity that can bring the joy of reading to those that have sight loss or other disabilities. Books can be streamed on line to a mobile phone, tablet or computer or can be delivered by post, on a USB stick or on audio CD 
www.calibreaudio.org
Ryedale Talking Magazine are a small local charity who provide a free CD monthly with various articles on it for people to enjoy. Call Val 01751 476499 
Free ebooks and audio books – all you need is your library number and PIN
https://www.northyorks.gov.uk/download-e-books-e-magazines-and-digital-audiobooks
To enjoy these digital library services you need to join the library. Loan of e-books is only available to customers who live, work or study in North Yorkshire. https://www.northyorks.gov.uk/how-join-library 
Theatre:
Alan Ayckbourn has written a new audio play, Anno Domino, which you can listen to for free from the Stephen Joseph Theatre website from 25th May till 25th June.
www.sjt.uk.com
Helmsley Arts Centre have a few things which you can watch on line. Visit their website www.helmsleyarts.co.uk
 
Art:
Adult colouring is known to help reduce stress and anxiety and is a great way to relax and switch off. You can download a variety of colouring sheets for free at www.justcolor.net
Gardening Links:
www.ngs.org.uk/virtual-garden-visits/
www.rhs.org.uk/shows-events/rhs-chelsea-flower-show
www.nationaltrust.org.uk/features/gardening-tips-from-our-garden-to-yours/
 
Wildlife Links:
Local artist Robert Fuller has lots of video's which you can watch on line. A great one for all you bird watchers is: - 
https://www.robertefuller.com/diary/can-you-recognise-birds-in-wild-watch/
British Trust for Ornithology are offering membership of its BTO Garden Birdwatch for free during lockdown. www.bto.org 
Update - Office hours
Due to the current Covid-19 situation our office is closed to visitors but we are available by telephone Monday to Friday during office hours. 
Our Response to the Coronavirus Epidemic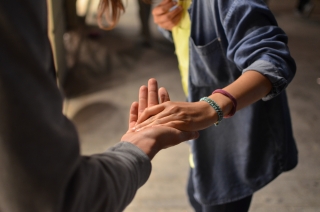 The government have advised that everyone over 70 and those with underlying health conditions should take stringent measures to protect themselves through social distancing. Ryedale Carers Support has therefore decided that all our volunteers must stop visiting with immediate effect. However, you can stay in touch with your volunteer by phone.  We have also cancelled Songs & Scones, Farmers Breakfast and the walking group. 
New Year Challenge!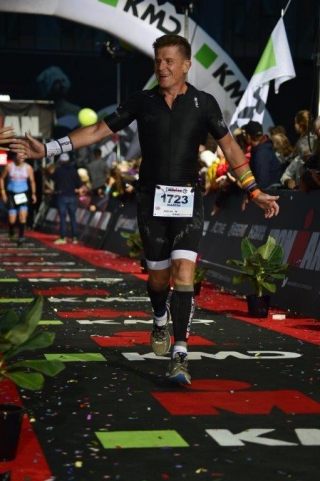 Martin Lush, Global Vice-President of NSF Health Sciences, Kirkbymoorside (an NSF International Company) turns 60 this year.  To celebrate this veteran of seven Iron Man Triathlons and 20 plus marathons has decided to do MORE exercise!  He has come up with a 6/60/600/6000 challenge: swim 6 miles, run 60 miles, cycle 600 miles and, in the process, raise £6,000 for Ryedale Carers Support.
If you would like to help Martin achieve this goal and support us please visit http://justgiving.com/crowdfunding/martin-lush. Any contribution is greatly appreciated.  We will be keeping you up to date with his progress, including photos of him suffering, albeit for a great cause.  
200 Club Draw
Our 200 Club draw has 169 participants who have a chance of winning first, second or third prize every month.  The next draw will take place on 1st October 2020.  
If anyone would like to be included in the draw it is £12 per entry for the year - please contact us on 01751 432288 for more information
The winners for September are:
First Prize - BS £42.25 
Second Prize - RW £25.35                                                                 
Third Prize - SD £16.90
Support Ryedale Carers Support by shopping at Amazon
Sign up to Amazon Smile and help support Carers in the Ryedale Area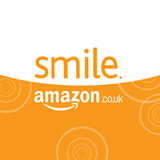 Are you a Co-op Member?  Please help support us - we have raised over £1449 so far
Every time you shop at the Co-op, 1% of what you spend on Co-op branded products and services helps to raise money for us. You have helped us to raise £328 so far - Thank You.You can choose to support us by signing into your membership account or by calling the membership helpline on 0800023 4708. See our page at https://membership.coop.co.uk/causes/41545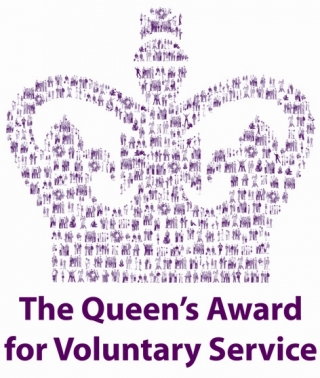 Ryedale Carers Support has been recognised with the Queen's Award for Voluntary Services for 2016
I wanted to share with you the good news that Ryedale Carers Support has been honoured with the Queens Award for Voluntary Services, the highest award a voluntary group can receive in the UK. We  are one of three groups to get the award in North Yorkshire and 193 groups nationally. Minister for Civil Society, Rob Wilson MP said: "I would like to congratulate all groups who received this year's Queen's Award for Voluntary Service, in recognition of their fantastic achievements. The huge amount of work and commitment these organisations put into their local communities is surpassed only by the passion and motivation of the individuals who volunteer. I hope these groups continue to inspire others to get involved and make a positive impact so that we can continue to build a more compassionate society."
I would like to add my heartfelt thanks to our volunteers and trustees both past and present for their tireless work in supporting carers and older people in Ryedale. Every one of them, no matter how large or small their contribution, should feel equally proud of this amazing achievement. Ryedale Carers Support will receive the award from the Lord Lieutenant of North Yorkshire later this summer.
Silverline
The Silver Line is a national confidential and free helpline for older people open every day and night of the year. No question too big, no question too small, no need to be alone.
Call the helpline on 0800 4 70 80 90