News & Events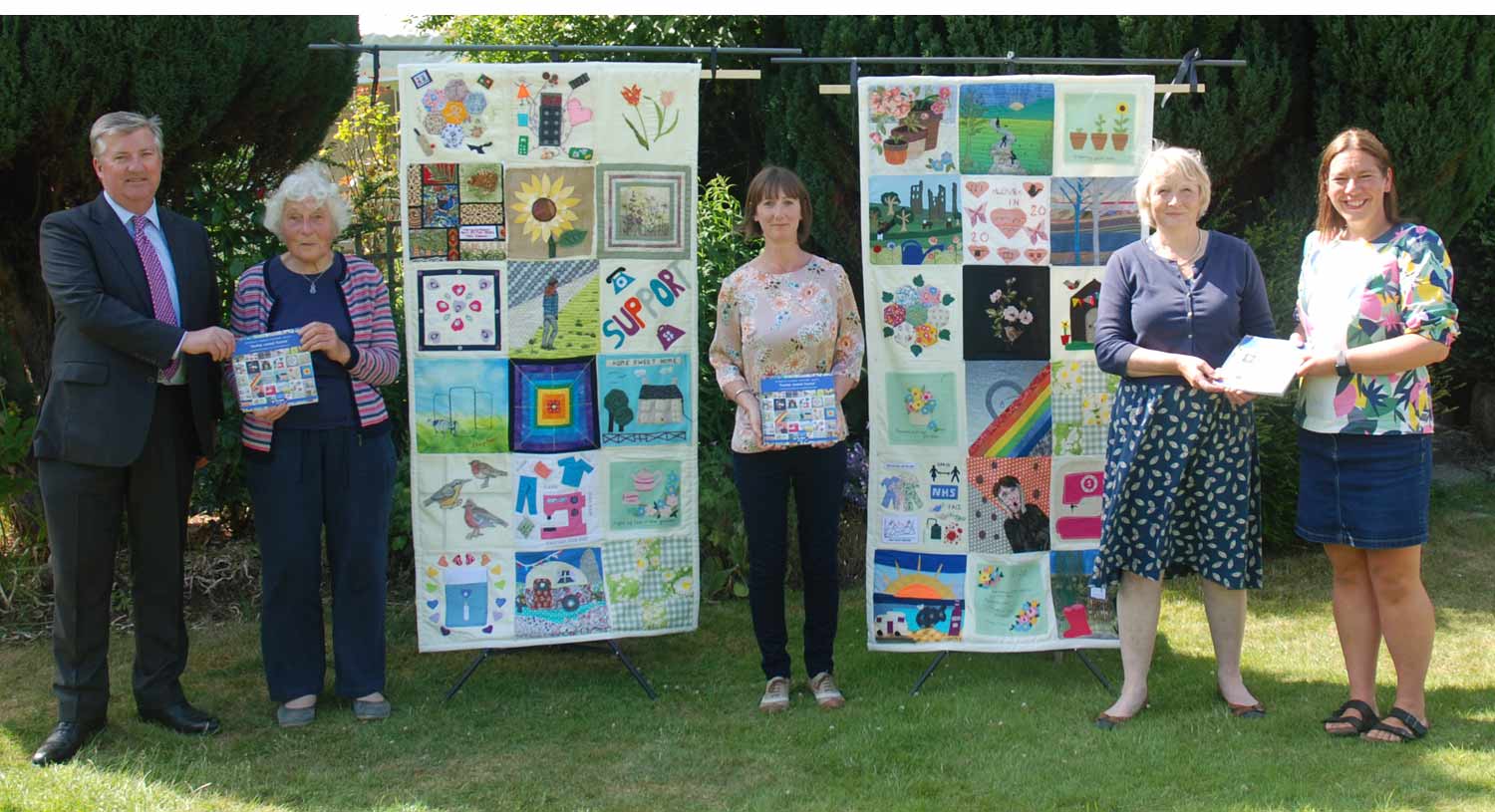 The two quilt wall hangings with (l to r) Vice Lord Lieutenant of North Yorkshire Chris Legard, Pat Thompson (Pat sewed all the quilt squares together), Sarah Hendry, Claire Hall and Lucy Ryan, Adult Learning & Skill Service.
Libraries showcase crafty quilters' lockdown memories
Libraries across Ryedale are to display the work of 20 quilters who took up the needle and thread to represent their memories of 2020.
The quilters have hand-crafted two colourful wall-hangings with the guidance of North Yorkshire County Council's Adult Learning tutor Lucy Ryan. They have used patchwork, felting, applique and embroidery to create their unique take on living through lockdown in Ryedale.
The community project was run by Ryedale Carers Support, a voluntary organisation helping carers and older people throughout the district.
County Councillor Patrick Mulligan, Executive Member for Education and Skills, said: "The individual achievements of the carers and the success of the project demonstrate that coming together online can be a powerful tool for ensuring a more inclusive approach to learning for people with caring responsibilities."
Sarah Hendry, Co-ordinator at Ryedale Carers Support, added: "The overriding message is of hope and resilience in a time of great uncertainty. These wall-hangings are a positive reminder to us all that working together on a shared project is the greatest tonic."
Chris Legard, Deputy Lord Lieutenant, attended the unveiling of the quilts. He said: "It was lovely to meet many of the amazing ladies and to see the two fabulous quilts, which have been made with so much skill, care and artistry. There are so many wonderful stories of human compassion which really warm the heart."
The quilts will be on display at the following locations and dates:
Norton library: September 1st to 14th
Pickering library: September 16th to 28th
Helmsley library: October 1st to 15th
Kirkbymoorside library: October 22nd to November 6th
Malton library: November 10th to 24th
Filey library: until Wednesday 15th December
Derwent Valley Bridge library: Friday 14th January to Tuesday 1st February.
County Councillor Greg White, Executive Member for Libraries, added: "It's great to see our libraries get behind this community initiative which has brought many people together during an incredibly difficult time. It's clear that a lot of work has gone into the quilts and this is a great way for their efforts to be recognised."
Find more about our Quilting Project (click here)
Download an 80 page pdf booklet (click here) celebrating the creation of the quilts and featuring each quilt square with comments by its creator. If your broadband is slow (click here) for a lower resolution version.
Thank you to our volunteers
What a fantastic afternoon we all had at the National Centre for Birds of Prey! Our wonderful volunteers were treated to a thrilling flying display, followed by delicious tea and cakes to thank them all for their support and hard work. Charlie at NCBP even shared a public 'thank you' at the end of his talk, which elicited a round of applause from the audience. Everyone enjoyed meeting up and chatting again after so long.
 
Tackling Loneliness in the Rural Community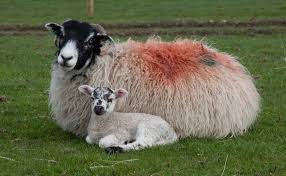 Some of you may have heard or since caught up on the recent feature by Farming Today on Radio 4 regarding the issues of loneliness in the rural community. The item featured Isabelle our Activities Co-Ordinator, Lacy Hewison (Volunteer) and NN, a client.
Isabelle usually organises the Farmers' Breakfasts in Lythe. Since lockdown, she has maintained telephone and letter contact with most of her clients, but realised as the winter lock down set in, that this was maybe not enough support for some of the very elderly and lonely farmers that used to come to the breakfast. After a few sleepless nights of trying to find a solution to the problem, a chat with a young friend developed into the local Danby Young Farmers Club being approached to see if any of the members would like to telephone befriend an older retired farmer. 2 young ladies immediately offered and were soon matched with a retired farmer each.
Being a farmer herself Isabelle often listens to Farming Today at 5.45am on Radio 4. One morning she was incensed by an article which implied that the young people of today were selfish, unconnected, blah blah blah. An immediate email was sent to the programme, telling them about the fantastic work (all be it on a very small scale) being done up in the North Yorkshire Moors by the YFC.
The editor got in touch – meetings were setup, client and volunteer were interviewed and a very nice piece was then broadcast. This included advice on how to adopt lambs onto sheep with a bucket of water!! Listen to the piece if you want to know more, or ask Isabelle.
The collaboration between the Young Farmers and the Old Farmers has been a great success. Both learning from each other and both now meeting up in person as well since rules have eased. The client NN in particular has loved speaking to Lacy and the chats seem to have triggered all sorts of memories, NN recalling a tale from the war which was shared in a recent Farmers Breakfast newsletter.
Download or listen to the Farming Today piece - Click here!
Ryedale Charities Together
We are proud to be part of Ryedale Charities Together - to find out more click the link 
 www.ryedalecharitiestogether.com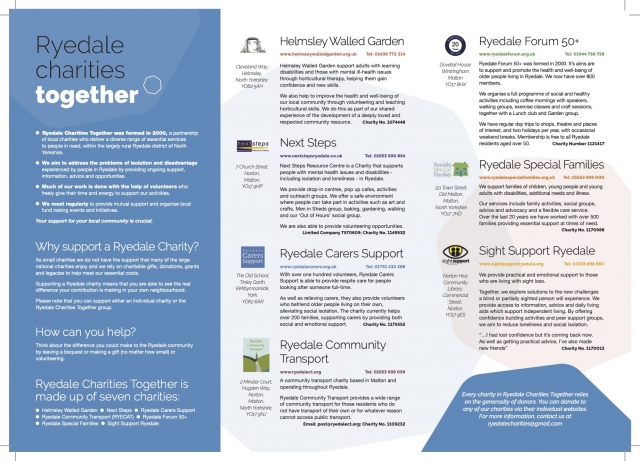 Some useful links to keep you entertained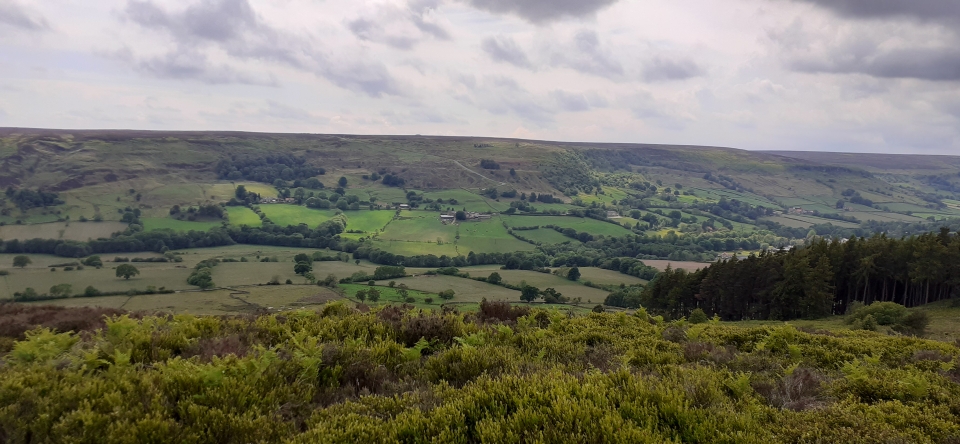 Check out this website if you are missing your country walks - you can listen to the sounds of the countryside
http://www.opencountry.org.uk/audio-walks/ 
Musical Memories are doing sing along sessions every morning at 11.00am Monday to Friday. These are the links. They will send out Songbooks to anyone that would like to join in. Please call Ruth on 07527 006402 if you would like one. 
 
Periscope - https://www.pscp.tv/search?q=Musical+Memories
Facebook - https://facebook.com/MMCIC
Vanessa Simmons Music – is a local pianist giving free lunchtime weekly concerts on Facebook 12.30 - 1.00pm every day 
 
Matt Jones Green - has set up an online alternative to concerts on his website. For £20, members can access weekly live sessions (on Zoom) as well as pre-recorded video performances for a month. Details are on his website: https://rewind.jonesgreen.co.uk 
Audiobooks
Audiobooks can be obtained from Calibre Audio a national charity that can bring the joy of reading to those that have sight loss or other disabilities. Books can be streamed on line to a mobile phone, tablet or computer or can be delivered by post, on a USB stick or on audio CD 
www.calibreaudio.org
Ryedale Talking Magazine are a small local charity who provide a free CD monthly with various articles on it for people to enjoy. Call Val 01751 476499 
Free ebooks and audio books – all you need is your library number and PIN
https://www.northyorks.gov.uk/download-e-books-e-magazines-and-digital-audiobooks
To enjoy these digital library services you need to join the library. Loan of e-books is only available to customers who live, work or study in North Yorkshire. https://www.northyorks.gov.uk/how-join-library 
Theatre:
Alan Ayckbourn has written a new audio play, Anno Domino, which you can listen to for free from the Stephen Joseph Theatre website from 25th May till 25th June.
www.sjt.uk.com
Helmsley Arts Centre have a few things which you can watch on line. Visit their website www.helmsleyarts.co.uk
 
Art:
Adult colouring is known to help reduce stress and anxiety and is a great way to relax and switch off. You can download a variety of colouring sheets for free at www.justcolor.net
Gardening Links:
www.ngs.org.uk/virtual-garden-visits/
www.rhs.org.uk/shows-events/rhs-chelsea-flower-show
www.nationaltrust.org.uk/features/gardening-tips-from-our-garden-to-yours/
 
Wildlife Links:
Local artist Robert Fuller has lots of video's which you can watch on line. A great one for all you bird watchers is: - 
https://www.robertefuller.com/diary/can-you-recognise-birds-in-wild-watch/
British Trust for Ornithology are offering membership of its BTO Garden Birdwatch for free during lockdown. www.bto.org 
200 Club Draw
Our 200 Club draw has 167 participants who have a chance of winning first, second or third prize every month.  The next draw will take place on 1st February 2022.  
If anyone would like to be included in the draw it is £12 per entry for the year - please contact us on 01751 432288 for more information
The winners for December are:
First Prize - PN £24.00                                                 
Second Prize - MT £14.40                                                                                                       
Third Prize - DA £9.60            
Support Ryedale Carers Support by shopping at Amazon
Sign up to Amazon Smile and help support Carers in the Ryedale Area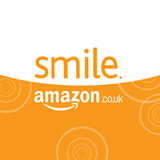 Are you a Co-op Member?  Thank you for supporting us 
Every time you have shopped at the Co-op, 1% of what you spent on Co-op branded products and services has raised £3419.63 for us - Thank You.  See our page at https://membership.coop.co.uk/causes/41545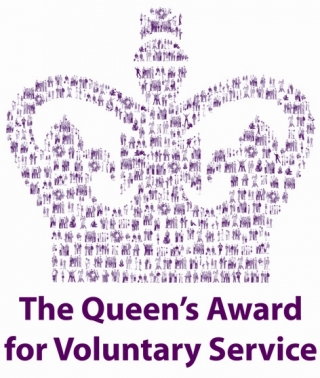 Ryedale Carers Support has been recognised with the Queen's Award for Voluntary Services for 2016
Silverline
The Silver Line is a national confidential and free helpline for older people open every day and night of the year. No question too big, no question too small, no need to be alone.
Call the helpline on 0800 4 70 80 90